Nut Clip is a moon clip that takes place within the Wooded Kingdom tunnel, using the Tucked Away Inside the Tunnel nut moon. It allows Mario to reach an out-of-bounds area that enables the Behind the Rock Wall moon to be collected without the use of the Sherm enemies.
Execution
Edit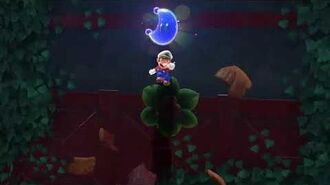 Just like any other
moon clip
, Nut Clip involves tilting Mario's hitbox into the wall behind the moon by backflipping and then throwing Cappy into the wall just as the moon becomes solid.
Since the nut takes three hits to break, it must first be hit twice to prepare the trick.
Position Mario just below the nut, facing toward the camera.
Backflip once to break the nut, then backflip again to prepare the moon clip. Perform a cap throw in the direction of the wall just as the moon becomes solid. The timing for this trick can be achieved by mentally counting to five in rapid succession: performing backflips on 1 and 4, and throwing Cappy on 5.
Speedrun usage
Edit
Using Nut Clip in an Any% speedrun results in a complete route change for the Wooded Kingdom. After Nut Clip is performed, Mario can continue to climb the out-of-bounds areas to reach Behind the Rock Wall and The Nut that Grew on the Tall Fence. Mario can then drop down to collect Climb the Cliff to Get the Nut, and then proceed to the moon in the Red Maze. After that, the route is the same as the beginner route until reaching the top of Sky Garden Tower, at which point the player can drop back down to the mainland to collect the three remaining moons.
If the player is inexperienced with the out-of-bounds movement following Nut Clip, but skilled at the clip itself, the clip can simply be used to bypass the gate. This still saves time over pulling the lever to open the gate normally.
World Peace
Edit
Instead of resulting in a new route, Nut Clip is used in the World Peace category simply as a way to skip the lever to reach the Climb the Cliff to Get the Nut moon. The clip saves much less time in this category than it does in Any%.
Community content is available under
CC-BY-SA
unless otherwise noted.